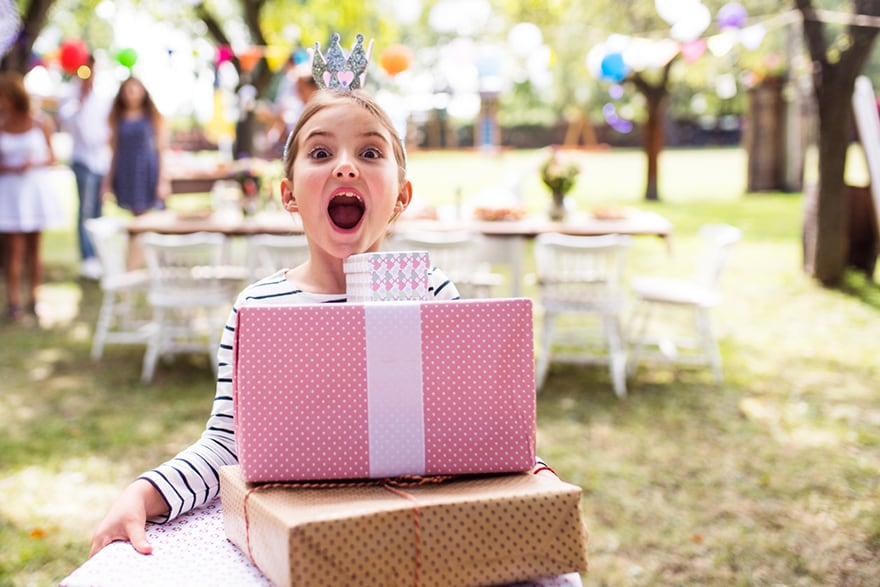 Families on a tight budget each develop their own way to deal with limited funds. Grocery store savings challenges with the kids, handmade heartfelt gifts, and DIY holiday celebrations are all hallmarks of a loving but low-budget family. But an interesting challenge arises when your child is invited to the birthday party of a friend whose family does it differently.
There is an interesting politics in birthday gifts for school-aged children. Some kids get extra cred at class parties by giving the coolest gift, and giving no gift can either be politely overlooked or become the subject of gossip for weeks. So children parents in tight-budget families walk a fine line when helping their child select a gift for a friend's birthday party. Fortunately, you don't need to give the most expensive gift with a few cool ideas and an insight into what really matters in school-age birthday gifting.
Today, we're here to share some cool gift ideas for birthday party gifting on a budget so your child can give an awesome gift without cutting into this week's grocery money.
The Dollar Store is a Treasure Trove
The first and best tip is to keep your search away from the dreaded "Toy Aisle." Instead of taking your kid through a walk of expensive action figures and cheap plastic crud, head to the dollar store instead. Dollar stores tend to have all sorts of fascinating retro toys and off-brand versions of popular toys that could easily serve your purpose.
Unless the birthday kid is a name-brand fiend, they'll likely enjoy something from the collection of squirt guns, parachute-guys, or bubble machines that you can find for dirt-cheap at a dollar store.
Give Gifts That Provide Same-Day Fun
There are two kinds of an awesome birthday gift for kids. Gifts that can be opened and played with immediately and gifts that require batteries, instructions or "some assembly". The second type of toy is likely to be the most expensive, earning oohs and aahs at the party. But the first kind of toy becomes the hit of the party as everyone takes a turn playing with the new gift.
Give the first kind of toy. A pack of cheap water pistols and water balloons (and maybe some backup towels) can turn a tame birthday party into an amazing water fight. A bubble machine or a twister game can transform the party into a real celebratory scene. And your kid can be the star of the party by providing this same-day fun.
Physical Games of Skill are Still Awesome
One thing to remember is that you don't need to invest in electronics for kids to have a good time. A cheap play lacrosse set, ladder toss, or a twister board are all it takes to have every kid lining up for their turn. There are tons of affordable outdoor game and activity sets that can become a highlight of the birthday party or a favorite for your kid and their friend to play on visits.
Kids love to play physical games of skill that show off their moves, test their coordination, and prove who has the best aim, accuracy, or endurance at the party. A game of skill can even be more interesting than an electronic toy that can only be played with by one person at a time.
Know the Birthday Kid's Favorites
You can also make a big difference if your kid really knows the birthday-child and what they like. If it's a young child who adores make-believe, a pack of plastic foods or job-simulation toys might be the perfect thing at a very lost cost. If the child has a favorite color, getting the wrapping paper and color of the gift might matter most to them and feel like a personalized gift from your child. If the birthday-child is into sports, consider a ball for their sport of choice, or an accessory for their bicycle.
Wrapping Paper Counts for A Lot
Finally, don't skip the wrapping paper. Kids love opening their presents almost as much as playing with them. A thoughtfully wrapped present will make the gift feel more special. Make sure to use the child's favorite color and create a fun bow by curling cheap ribbon for a silly topper decoration.
You can even make the gift opening a game unto itself with a few clever tricks. Two or three layers of wrapping paper can be extra fun to remove, for example. Or you can hide the gift inside a box inside another box. This is sure to win a few laughs during the gift opening part of the party.
When sending your child to a birthday party, the gift they bring can really matter. But you don't have to break the bank to make sure your child's gifting is appreciated. Instead, head to the dollar store and pick up something you know will be fun immediately and a hit for the whole party. Then wrap it with the birthday child's personality in mind. For more great everyday financial tips, contact us today!